STARDUST DANCE PROMOTIONS
SOME OF THE ARTISTES, MUSICIANS AND BANDS THAT WE HAVE PROMOTED.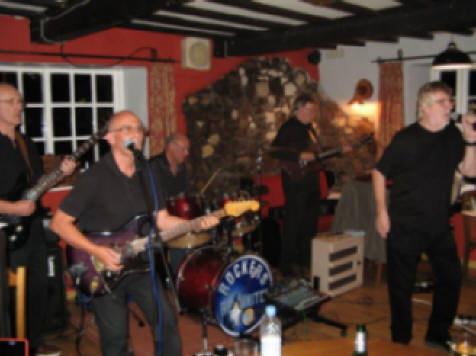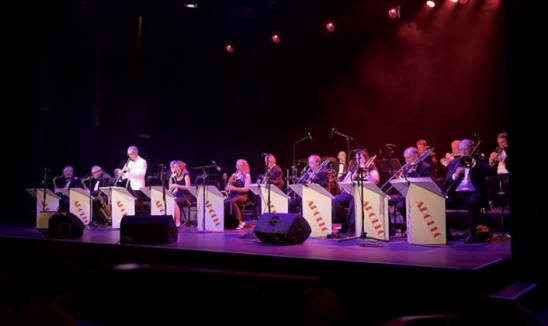 FORMERLY THE ALL STARS BIG BAND... IT HAS NOW BEEN RE-NAMED !
A NEW BAND HAS BEEN FORMED CALLED THE ' NEW STARLIGHT BIG BAND' FEATURING MANY OF THE ORIGINAL MEMBERS! See below on a seperate link...

SWINDON'S PREMIER BIG BAND PLAYING DANCE MUSIC FROM THE 40'S 50'S AND SIXTIES CLASSIC PERIOD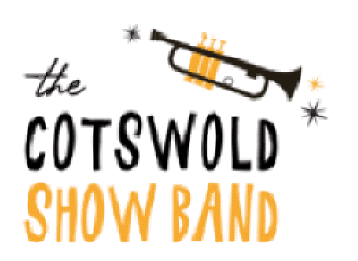 © StardustDancePromotions 2017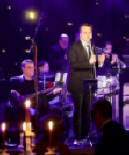 The 'NEW STARLIGHT BIG BAND' is a 16 piece ensemble including male and female singers based in the COTSWOLDS. The Musical Director is NATHAN JONES...who lives in the picturesque village of Bourton-On-The-Water. The main 'big band' can play all the favourite classic numbers from the 40's-50's and 60's right up to the present day modern tunes...includung Swing, Jazz, Pop and Show tunes.
If you require a smaller band for your function the main band can be broken down into 5 - 6 - 8 10 or 12 personnel....depending on your requirements. Themed evenings are one of the specialities.... and the band will play for private functions as well as public. Charity events are also included in our format. The band is as versatile as is it articulate with its repetoire.
As of July 2018...there is new website being designed for the band under construction.
The Apollo Big Band is based in and around the town of Newbury in Berkshire...they play concerts at the Stockcross Village Hall and at the Newbury Corn Exchange... with invited guest singers like Terry Franks (see photo-right) and the lovely Steph Richardson.
The Musical Director of the band is Les Bruce.
The "SWING BIRDS" are as the title would suggest an all female BIg Band based in and around SWINDON. Albeit the players come from a wide area. They have played concerts for charity in loads of local venues, play regular concerts at The Arts Centre and an annual show at the 664 seat Swindon Wyvern Theatre. Their Musical Director is the lovely MO SQUIRES.
Rockers Re-United are a Rock 'N Roll covers band specialising in the 50's and 60's music. A 5 piece group based in Highworth play the pubs and clubs in and around the Swindon area.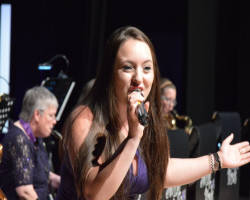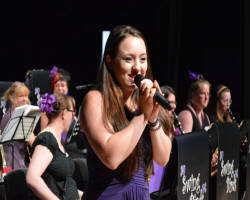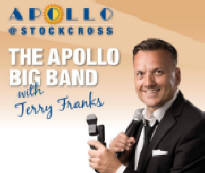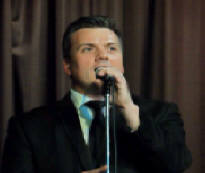 THE GORGEOUS - MISS KYM ROSE- FABULOUS VOICE- FANTASTIC BIG BAND VOCALIST.